Some of Canada's top theatre reviewers have honoured the Classic Theatre Festival in Perth with a record-breaking five awards nominations in the professional theatre category for the 2017 Capital Critics Circle Awards, which will be announced at a special ceremony in Ottawa on November 13.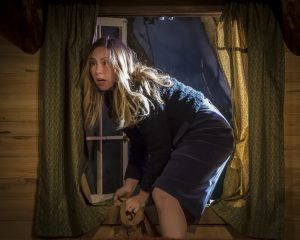 The five nominations cover all three mainstage shows that ran during the Festival's summer season, which once again drew thousands of tourists to Perth, many of whom also took in the highly-regarded theatrical walking plays that now run seven times a week throughout the summer. The Festival's staging of George Bernard Shaw's Candida, directed by Laurel Smith, picked up nods for Best Production, Best Direction, and Best Actor for William Vickers in his performance as Mr. Burgess. (The Festival's 2016 production of Shaw's Arms and the Man was similarly nominated in the same categories, with Lana Sugarman winning as best female actor, while Vickers was also nominated two years ago for his role in Neil Simon's I Ought to Be in Pictures.)
Sugarman picked up her second consecutive best actor nomination for this year's beloved production of Canadian Bernard Slade's timeless Same Time, Next Year, while Ottawa's Roger Schultz was nominated for his set design in another Canadian playwright's mystery thriller, Peter Colley's I'll Be Back Before Midnight.
Upon hearing the news, Sugarman thanked her director, Laurel Smith, for  "guiding me to do my strongest work in some incredible roles," as well as "my magical co-actor, Scott Clarkson. You can't get a Best Actress nomination in a two-hander without the best partner up there with ya!"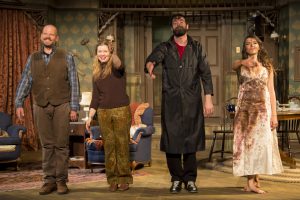 For Artistic Producer Laurel Smith, the critical attention being paid to the Classic Theatre Festival is "a tribute to the remarkable talent that puts these plays on every summer. We are so privileged to host some of this country's finest talent both onstage and behind the scenes, and I really believe these award nominations speak to the team effort that is required to put on the shows, whether it is stage management, lighting design, costume design, set design, the front of house folks who do such a great job making our guests feel welcome and at home, and the young people in our theatre training program who are at the forefront of what it means to be a Perth ambassador."
Smith also extended congratulations to other award nominees, including numerous National Arts Centre productions, and said that while she looks forward to the Ottawa party, she's also busy planning the 2018 summer season which, in addition to three golden age of Broadway and the London stage classics, will also include a brand new morning walking play, a new ghost walk, and a surprise show that will be announced in December.
Advance Super Savings Flex Passes are now on sale for the 2018 summer season, with a 25% discount and the flexibility to pick dates next year. Order at ticketsplease.ca or 1-877-283-1283.