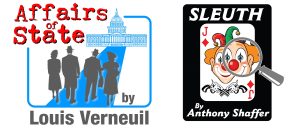 The Classic Theatre Festival returns in 2023 to our new venue, the historic Arts Court Theatre in downtown Ottawa, with a full summer season of two plays: Affairs of State by Louis Verneuil, playing July 7 to 30, 2023; and Sleuth by Anthony Shaffer, playing August 4 to 27, 2023.
Save up to 20% NOW until December 31, 2022!
Buy a Voucher and choose your dates later!
Box Office:  613-695-9330
Masterclass Offers Scene Study Training for Ottawa Actors
In an exciting new partnership, the Ottawa School of Theatre (OST) has teamed up with Burning Passions Theatre to present a Scene Study Masterclass with award-winning professional director Laurel Smith on Saturday, March 4, 2023. [More…]