Original Script by The 2001 No City Limits Troupe
First produced in the summer of 2001 and remounted in 2002 by Burning Passions Theatre and York Arts.
No City Limits 2002
The goal of this project is to give youth a voice and the opportunity to find their own solutions to the issues they face. The members of this diverse ensemble will take a strong role in educating themselves and each other by sharing life experiences and using extensive research on such topics as AIDS prevention and healthy sexuality, drug abuse prevention and anti-violence initiatives.
More Information: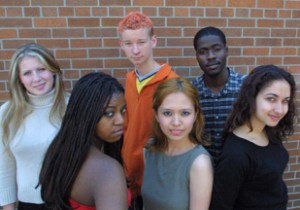 Production Staff:
Directed by: Laurel Smith
Administrator: Lily Tannis
Project Manager: Parul Agarwal
Stage Manager: Angela J. Morra
Assistant Stage Manager/PA: Jessica Katz
Set Design by The 2001 Arts York Graffiti Transformation Project
Starring:
Blair Bigham-Howell
Uriel Campbell
Melissa Dixon
Caroline Fernandez
Danielle Jackson
Shirley Marquez
Our Sponsors and Supporters