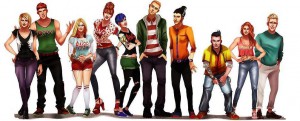 DO YOU LIKE TO PERFORM? DO YOU FEEL YOU'RE NOT BEING HEARD? WANT TO DO SOMETHING ABOUT IT?
JOIN THE LISTEN UP LANARK COUNTY! YOUTH THEATRE PROJECT
Youth Actors Wanted (4 positions available)
Reporting to the Artistic Producer, the troupe will be involved in the research, creation rehearsal and performance of scenes for a play based on youth issues during the winter/spring of 2016.
Specific duties include:
research of facts and events relating to local youth issues to be used in the creation of theatrical scenes
be involved in the improvisation, creation and rehearsal of theatrical scenes
present scenes as part of public performances
be prepared to participate in after-show audience talkbacks at all performances
Qualifications, skills and interests include:
interest in local youth issues
interest in theatre and/or performing arts
excellent literacy and dramatic skills
willingness to train
keen sense of responsibility
able to work in a team setting
punctual at all times
able to be self-directed and motivated
take instruction and direction well
An honorarium will be provided, based on an equal share of the box office at all paid public performances.
Preferred Age Range: 14-25 years of age
Hours: Part-time from approx. Feb. 15 to Apr. 30, 2016
To apply, please send an email outlining why you'd like to be part of this project and why you feel you would be a good fit, along with your resume, to:
burning@web.ca

APPLICATION DEADLINE: FEBRUARY 5, 2016