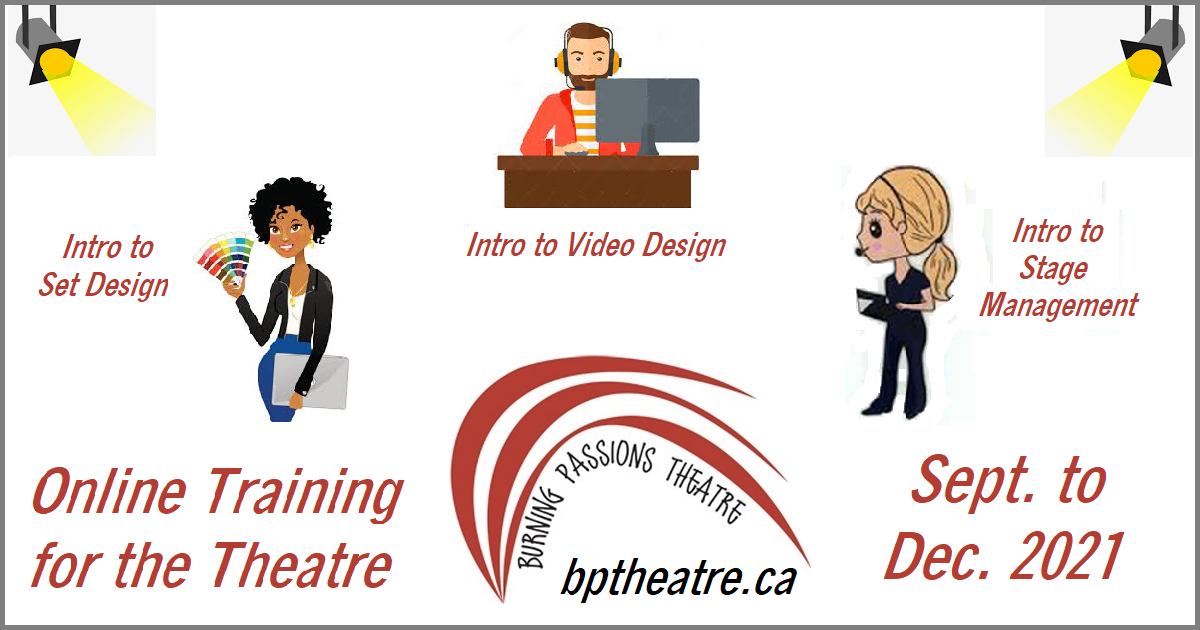 During the fall of 2021, the award-winning Burning Passions Theatre (producer of the Classic Theatre Festival) ran a series of free online courses for those interested in Video Design, Set Design, and Stage Management for the theatre (see course descriptions below). Taught by some of this country's leading theatre artists, these accessible classes were an outstanding opportunity to learn the basics with innovative, award-winning artists who inspire with their passion for the trade and are encyclopedic with their knowledge of what makes theatre work well. As we gear up for what will hopefully be a return to live theatre soon, there is no better time to get involved and learn from the comfort of your own home.
All courses were free of charge, and participants were chosen based on their application. Courses were for anyone who is interested in furthering their theatrical skills and knowledge base, or as a refresher course.
Watch for news for a new round of courses starting in the fall of 2022!

Many thanks to the Ontario Arts Council for supporting this program.
Intro to Video Design
Learn how to create your own unique video art installation. In this course, participants will explore the history of video in entertainment settings; develop the skills needed to produce their own video content; discover methods of projecting content through 3D space; and learn how video helps to encourage narrative and theme in storytelling.
Instructor: Wesley McKenzie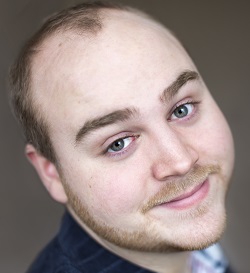 Wesley McKenzie is a lighting, sound and video designer for theatre and opera. Wesley has designed a number of shows with the Classic Theatre Festival and the University of Toronto Opera program.
Wesley was nominated for a Dora Award in 2019 for his projection work on The Scavenger's Daughter.
Intro to Set Design
This course will give a broad overview of the process of designing a set for live entertainment. It will touch on technical process, drafting, and model making, and have a strong focus on developing a collaborative holistic process as a designer. It will explore visual communication techniques and why we use them. This course will push participants to work with openness and flexibility, to grow your voice as an artist, and explore options in how you build your life as a working artist.
Instructor: Holly Meyer-Dymny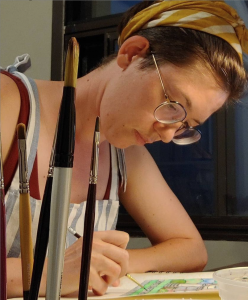 Holly Meyer-Dymny is an award-winning Canadian theatre designer, artist, mentor, educator, and activist. Her theatre work has a focus on conversation, collaboration, holistic design, and decolonialized, accessible, greener practices.
She is an illustrator, gardener, and can often be found in the woods with her dog Penny. Find more about Holly at: hollymeyerdymny.com.
Intro to Stage Management
Stage Managers are integral to the live plays they work upon. There is no detail in a production which they do not need to comprehend. Yet most people do not know what a stage manager's job actually entails. After all, if SMs do their jobs correctly, an audience will never know they are there. This course attempts to pull back the curtain and let you see behind the scenes to begin to understand the scope of the position of a theatrical stage manager.
Instructor: Jennifer Stobart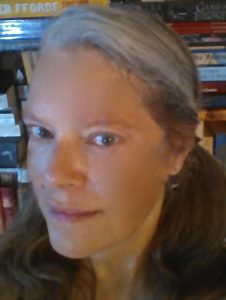 A veteran of live theatre, Jennifer Stobart has stage managed over 155 professional productions. Having worked in theatres both grand and modest, she has toured coast to coast in Canada several times, across the United States, to Dublin, Ireland, London, England, Sydney, and Perth, Australia, and Edinburgh, Scotland.
She has mentored apprentices of all experience levels. Currently, this summer and fall she is SMing shows for Odyssey Theatre, Crow's Theatre, and Indigenous Fashion Week Toronto.