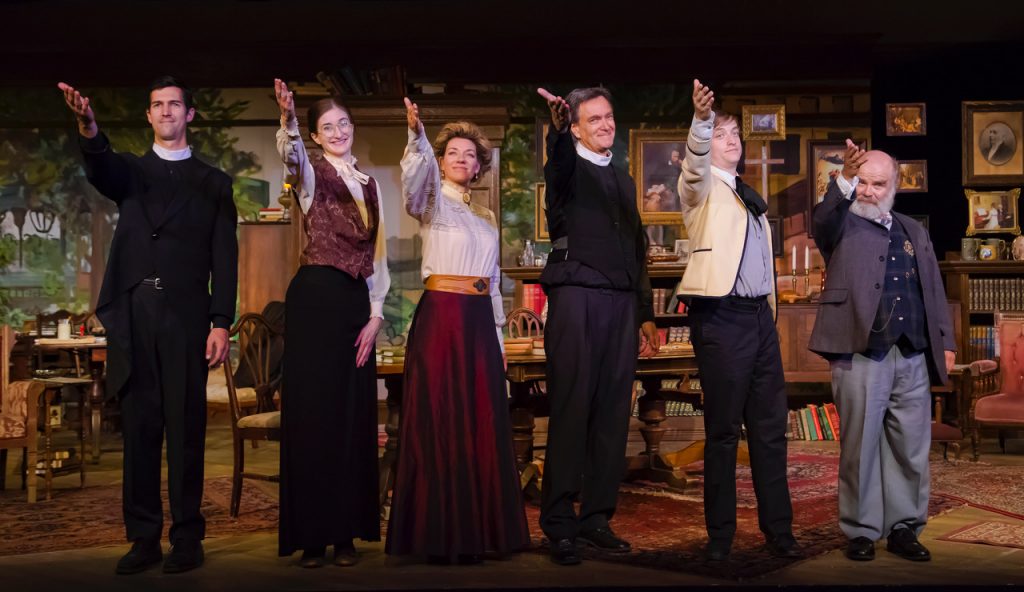 ---
As we look with wariness on a holiday season once again marked by Covid variant concerns and reminders to mask up and socially distance, the Classic Theatre Festival is pleased to offer a glimmer of hope for its audience members with a planned relaunch in the summer of 2022.
Like all professional theatres, the Festival was forced to shutter its doors during the first wave of the pandemic, a sad moment following the successful completion of the company's first decade in Perth, Ontario. In 2019, the Festival enjoyed a busy summer with a dinner theatre presentation, three mainstage shows, a historic walking play and, through its parent company, Burning Passions Theatre, a youth theatre touring show addressing body image and eating disorders.
"It felt like going from 100 miles an hour to a sudden, full stop, but canceling was the easiest and hardest decision we ever made," explains Artistic Producer Laurel Smith. "Performer, staff, and audience safety are always a paramount concern, so after much research and consultation with public health authorities and our peers in the professional theatre world, we were among the first to cancel our 2020 season. It was incredibly hard, though, because at the time, it felt like we would never again be able to return to the stage."
Almost two years later, Smith says the remarkable strides made with vaccination – combined with far better knowledge of the attributes of the airborne virus and protective safety measures – have allowed live event spaces to slowly and safely return to in-person performance.
"Like everyone else, we are learning the Greek alphabet with each new variant," says Smith, adding, "While Omicron is a concern right now, we feel comfortable that, based on public health trends and the experience of other professional theatres, that we can safely re-open next summer."
The Festival is planning to relaunch in downtown Ottawa's historic Arts Court Theatre, another decision that grew out of the uncertainty of a decade marked by the real-world drama of climate change and pandemic anxiety. As a result, the company will be investing in health protocols that will make going to the theatre a safe experience,
"Things have changed for all arts organizations after two years of relative dormancy, and unfortunately, the costs and challenges of putting on the Festival in Perth are just no longer viable with the new normal," Smith explains. "Arts Court Theatre is a wonderful space in a beautiful heritage building, and with over half of our audience based in Ottawa, it seemed like a great fit. We also know that a lot of audience members from Lanark County often visit Ottawa because it is only an hour away, so we look forward to seeing our Perth and area friends next year as well."
As Smith reflects on an experiment that began in 2010 – a new professional theatre in a new region – she recalls the "Field of Dreams" moment when she saw that, "if we build it and we market it, they will come. And they did!
"We had a great decade in Perth, and were proud that we played a leading role as a major tourist draw, as well as a significant revenue generator for local restaurants, shops and accommodations," Smith says, noting that according to provincial studies, the Festival pumped over $12 million into the local economy. In addition, the Festival hired, trained, and mentored scores of young people (many for their first summer job), provided meaningful volunteer opportunities to hundreds of people, and distributed thousands of free tickets through its Save-a-Seat program to make theatre accessible to low-income and socially marginalized community members.
"Save-a-Seat was a wonderful example of how theatre builds community," explains Associate Producer Matthew Behrens. "Most recipients had never enjoyed live, professional theatre before, and some went on to volunteer with us, receive training, and employment as well, so it was an initiative that both made the arts accessible while also creating more community cohesion."
At the core of the Festival was its award-winning programming, which annually garnered numerous Capital Critics Circle award nominations for acting, designing, and Laurel Smith's direction.
"Our first decade's audiences were the best we could ever hope for," Smith recalls. "They were engaged, enthusiastic, and so incredibly supportive. We loved the interaction, the pre- and post-show dialogue with them, the reflections on what our play choices meant to them. And we truly appreciate the many emails and phone calls we have received during the pandemic looking forward to our return."
While the Festival won't be announcing its 2022 programming until February, Smith says the first year back will be a modest restart that, upon completion, will allow the company to expand the number of works it produces.
In the meantime, the Festival's award-winning design and stage management team has been offering online training for a new generation of theatre artists, something they hope to expand in 2022 as well.
"For us, training and mentorship is a key part of what we have always done, and it's a great way to meet new people and invite them to be part of this exciting life of sharing stories that define who we are and help us understand the world and ourselves in an often anxious and scary time," Smith says. "We just cannot wait to get back to it, and look forward to seeing everyone again."
For updates on the Festival's plans, visit classictheatre.ca. Follow on Facebook at facebook.com/ClassicTheatreFestival.
---
Donate today to help us with our 2022 Relaunch! Thank you so much for your support!
---