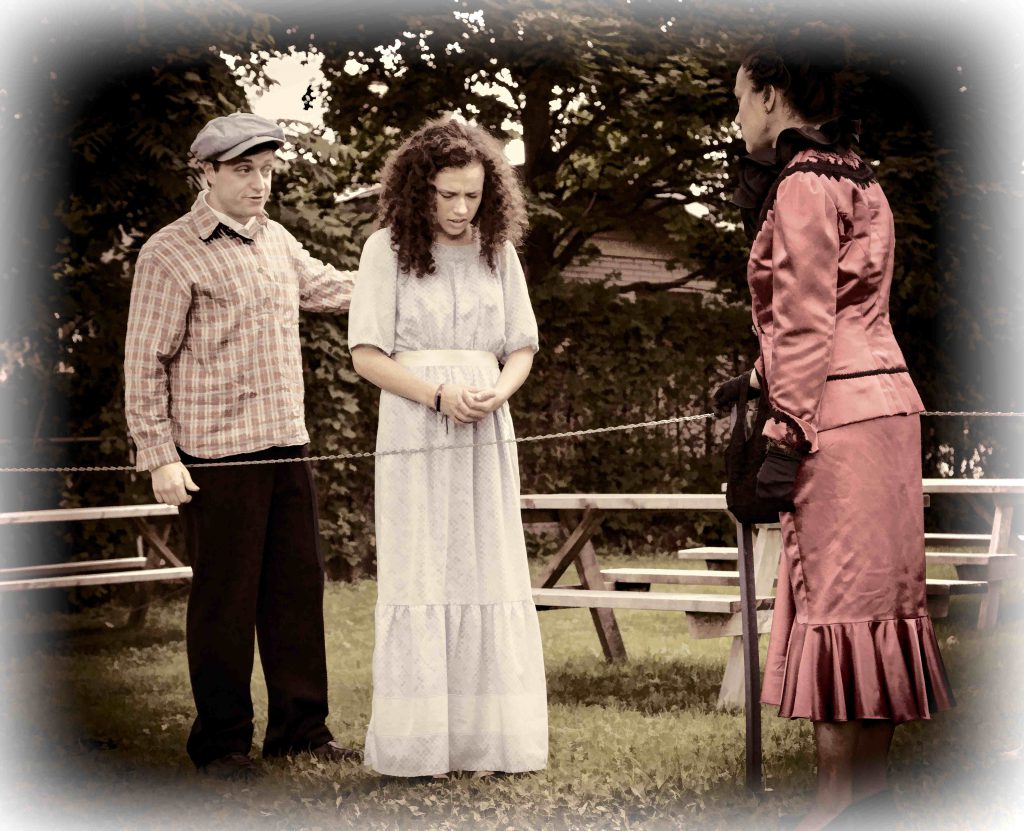 As part of the annual theatrical historic walking plays that enliven the streets of Perth each summer, the Classic Theatre Festival is looking to hire a group of young people with an interest in acting, singing, and dancing for its brand new 2018 street-level shows. Resumes will be accepted until March 15, 2018 at info@classictheatre.ca.
While no prior experience is necessary, the Festival's youth theatre training program hires and provides full-time paid work for students aged 15 to 29 during the summer months. Performers will also take part in the company's inaugural Classic Dinner Theatre experience, which will take place Tuesdays from June 5 to August 28 at Michael's Table, 110 Gore Street East in Perth.
"It has been great to provide paid summer employment and co-op placements for young people who are interested in the arts," explains Classic Theatre Festival Artistic Producer Laurel Smith. "Not only do they get training with professional theatre artists, they also help draw thousands of tourists to town who learn about Perth's history in an entertaining fashion, and who also shop in local stores, eat locally, and stay overnight too, which is great for the economy."
While past walking plays have largely dealt with early Perth history – last year's Perth through the Ages and the Lonely Ghosts Walk dealt with the town at Confederation – this year's shows will feature more recent stories set during the Second World War.
"The morning show will look at how local residents dealt with wartime tensions on the home front, including fears about escaped spies from the nearby prisoner-of-war camps in Kingston and Petawawa," explains Smith, who will be writing the script. "It's also an opportunity to remember that even though the war was pitched as a battle between democracy and fascism, the civil liberties of thousands of Canadian citizens were eliminated, including the jailing of hundreds of labour organizers without charge, as well as the internment of thousands of people of Japanese, Italian, or German heritage."
This year's Perth through the Ages play (running Wednesday to Sunday morning at 11am beginning at Matheson House Museum on Gore Street) will bring back memories of Big Band swing music and popular dances of the day.
Also on tap will be the annual Lonely Ghosts Walk (running Thursday and Friday evenings at 7pm), which will feature the spirits of British war brides who often faced their own challenges once they arrived in this country. Both walking plays are family-friendly.
Students who sign on to the summer program will also be appearing in the Classic Dinner Theatre production of George Bernard Shaw's connubial comedy Overruled, about two married couples facing a rather unconventional challenge. Smith, who worked at the Shaw Festival before founding the Classic Theatre Festival in Perth, is excited about bringing this hilarious take on married life to a brand new setting at Michael's Table.
The show will run from 5 to 7 pm and feature a three-course meal at the popular Perth dining spot. "When Michael's Table was recently renovated, they created a perfect, intimate spot for dinner theatre" says Smith. "Reaction so far has been very enthusiastic. People should book early because seating will be limited."
Anyone interested in applying for the Festival positions should submit a resume to info@classictheatre.ca no later than March 15, with interviews scheduled the third week in March. Those interested in purchasing discounted Early Bird tickets to the walking plays and the Classic Dinner Theatre, as well as for the Festival's mainstage season, can visit ticketsplease.ca or call 1-877-283-1283.