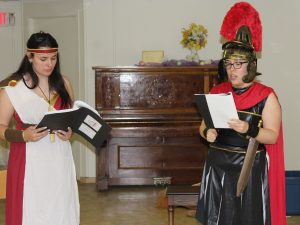 Following its completely sold-out inaugural year, the Classic Dinner Theatre returns to Perth this summer with an additional lunchtime sitting at Michael's Table (110 Gore Street East). Featuring Laurel Smith's new adaptation of the Shaw comedy classic Androcles and the Lion ( a satire on life under the Roman Empire), the play, accompanied by a three-course home-cooked meal, will run June 4 to August 27, 11 am to 1 pm (show first, followed by lunch) and 5 to 7 pm (meal, then show).
Directed by Joanna McAuley-Treffers and presented by talented up-and-coming performers from Ottawa, Lanark and Renfrew Counties – Mallory Brumm, Abigaile Gagnon, Tyler Street, Brooke Trealout and Connor Williamson – the second year of the project is part of a rural youth theatre training program run by the Classic Theatre Festival.
"People had a great time at last year's first show, and because it sold out so quickly, we have expanded the number of performances, but even with that, tickets are selling so fast that folks might want to reserve a seat now before they're all gone," enthuses Smith, who notes Androcles and the Lion's June 4 opening begins a summer-long celebration of the Festival's 10th anniversary.
While dinner theatres sprang up across North America after World War II and reached their heyday in the 1960s and 70s, they have been enjoying a resurgence as companies like the Classic Theatre Festival and Michael's Table come together around shared values of artistic and culinary excellence. "It's a great opportunity to tickle your funny bone, please your palette, and create a memory you'll enjoy long after the final curtain," Smith says.
This year's show features an elevated stage for improved sightlines as well as stunning backdrops that bring to life the Roman era. "There's also quite a few comic surprises that will keep you laughing all the way home," Smith says.
To reserve dinner/lunch theatre seats, as well as learn more about the Festival's 10th anniversary season, contact 1-877-283-1283 or visit ticketsplease.ca.